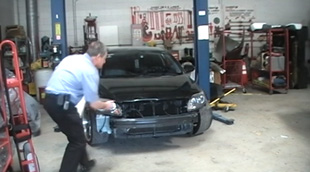 Dr. Jay (above) estimating customer's car

Insurance DRP referred/steered Shops
Most DRP Shops work on reduced rates that Insurance companies will pay for various Labor and Parts. This can result in a substandard repair
Most of the DRP shops and Dealer referred to shops run a tight system and want to charge for everything

.
New Car Dealer Owned/Referred Shops
Inflated RatesParts and servicing from New Car Dealers will certainly be charged at Top Dollar rates, usually greatly inflated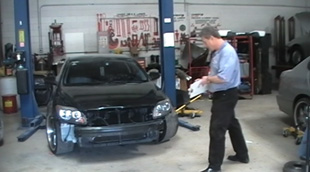 Dr. Jay (above) doing thorough estimate on customer's car
New Car Dealer Owned/Referred Shops

If a New Car Dealer doesn't own it's own Body Shop then they usually arrange to have a Third Party Shop to handle their collision repair business. This can usually be a money maker for the Dealer as a Body Shop normally ends up paying the Dealer an Upfront fee to gain their business and even in some cases they may even pay commissions to that dealer for each customer they send them. This often means that the Shop may have to make up that money somewhere.
Dr. Jay (above) reviewing computerized estimate
Once you bring your car into ABU you can go on about your business and Dr. Jay will deal with your insurance company on your behalf. You already know the kind of work you can expect because you have had the opportunity to watch dozens of videos on similar Repairs start to finish.


That provides a comfort zone of a Forward Looking opportunity that very few body shops offer.
Contact Dr. Jay Personally
(800)
679-4848
Insurance and Dealer Steering
Insurance Steering practices are common place, even
New Car Dealers either have their own body shop or they have
a Contracted Authorized Body Shop that
they send all their business to.
See why you should see ABU 1st - before being
referred by either the Insurance Company or the Auto Dealer for a referral.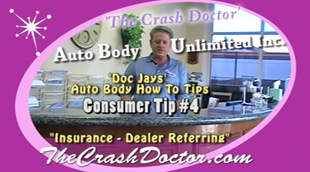 Questions you should ask if you're referred or steered to another
shop ahead of time by EITHER a Car Dealer or Insurance Company:

1 - Does the Shop offer Videos of their work from Start to Finish, not just
a couple of photos?
Videos show much more detail and 'HOW' the staff treat the process,
photos cheat it.

2 - Does the Shop offer Video Reviews, not just one review in text?
Many shops have been accused of putting up or soliciting 'False' testimonials/reviews.
A shop that posts dozens of Text, Photo and Video Reviews is hard to counter

3 - Does the Shop offer Free Rental Cars?
Some shops will say they may pick up the difference between what their insurance
company doesn't pay for and most Dealers will give you a ride home and pick you up
when your car is fininshed, but what do you do in the meantime?!
ABU offers it's own plan and works with the customer to see they have transportation whether or not they have Rental Car coverage on their policy or not

4 - Does the Shop offer Assistance with your Insurance Deductible?
The body shops that tend to offer some form of insurance deductible financing that are affiliated with either a DRP from an Insurance company or through a Dealer Shop offer to Fiance your Deductible. ABU Does!

5 - Does the Shop allow you to provide your own 'Safe Approved' parts?
Insur ance Companies are getting more and more tighter on parts, even turning
a blind eye to substandard parts at times. ABU ONLY uses OEM Parts. However,
there are cases whereas ABU will install a Customers Part provided it is safe.



If you are in need of any Auto Body Repair or Paint work then take
some time and visit the ABU website, fill out a short Online Quote
Form and you can even send in some photos of the work you require.
Dr. Jay will get back to you right away with a Quote, schedule your
work, discuss your Rental car needs and answer any Deductible questions you may have.
6 - Does the Shop have a website that offers any consumer information?
Many body shops say they do public community service programs but offer little to
nothing on their site. Check you a sites website, see how it compares to ABU
At ABU you will find more consumer awareness sections, including text, photos
and videos that other shops find very hard to compete against. Very few body shops
provide Valuable information to the consumer, only self serving topics designed to
bring you into their shop. ABU provides a Complete Motorist's Rights Section and
Video ips from Dr. Jay such as the one you're watching now.

7 - Does the Shop have modern Equipment and Paint Booths?
Check out the shop that you are being referrred to in advance, do they have mondern Downdraft Paint booths and modern technology? Remember, you are getting your car repaired and you want it to have resale value if you intend on trading it in or selling it to
buy a new one.

8 - Does the Shop use the latest highest quality paints?
What kind of paint system does the shop use? All Paints are Not alike

9 - Does the Shop allow you to get a Free Online Quote?
Will the body shop give you a Free quote or do they charge you. While complex quotes whereas fenders, and other parts require removal to inspect for damage may incur a fee, most quotes can be done without this procedure and you shouldn't be charged for that.
ABU will help you on this and show you every thing that requires repair prior to signing.

10 - Does the Shop have a Top Rated Certification from the BBB?
What is the Shops BBB 'Better Business Bureau' Rating? ABU has an A+ Rating

11 - Specialty Cars
Auto Body Unlimited Inc is one of the most unique shops in the State as ABU is rapidly being known as the Corvette Center for California, The Muscle and Claissic Custom
Car center for Caliornia and the RV – Motorhome Repair and Paint Center for California.
See if the shop you are being referred to can match that. What does this mean to you?
Well if the owners of Expensive Specialty and Classic Custom Car trust ABU with their
very expensive autos then you can too!